Case Study: Driving 45 Signups in 30 Days: A Case Study on Successfully Promoting LifeWave Opportunity
In this case study, we will delve into the strategies implemented to secure 45 signups for a client's LifeWave Opportunity within just 30 days. Our approach consisted of a multi-faceted marketing strategy, including premium exclusive blog posts, backlinking, leveraging our audience, and targeted email marketing. This case study demonstrates the effectiveness of our techniques in achieving outstanding results for our client.
I. Premium Exclusive Blog Post and Backlinks:
To kickstart the promotion, we began by creating a premium exclusive blog post highlighting the LifeWave Opportunity's unique selling points and benefits. This post was designed to captivate the audience and offer valuable insights to potential signups. Additionally, we put significant efforts into search engine optimization (SEO) to ensure the content was search engine-friendly. To enhance the visibility of the blog post, we executed a comprehensive backlinking strategy. 100 high-quality backlinks were created to the blog post, boosting its indexation on Google and improving its search engine ranking. This approach increased the overall visibility of the LifeWave Opportunity, making it easier for potential prospects to discover the opportunity.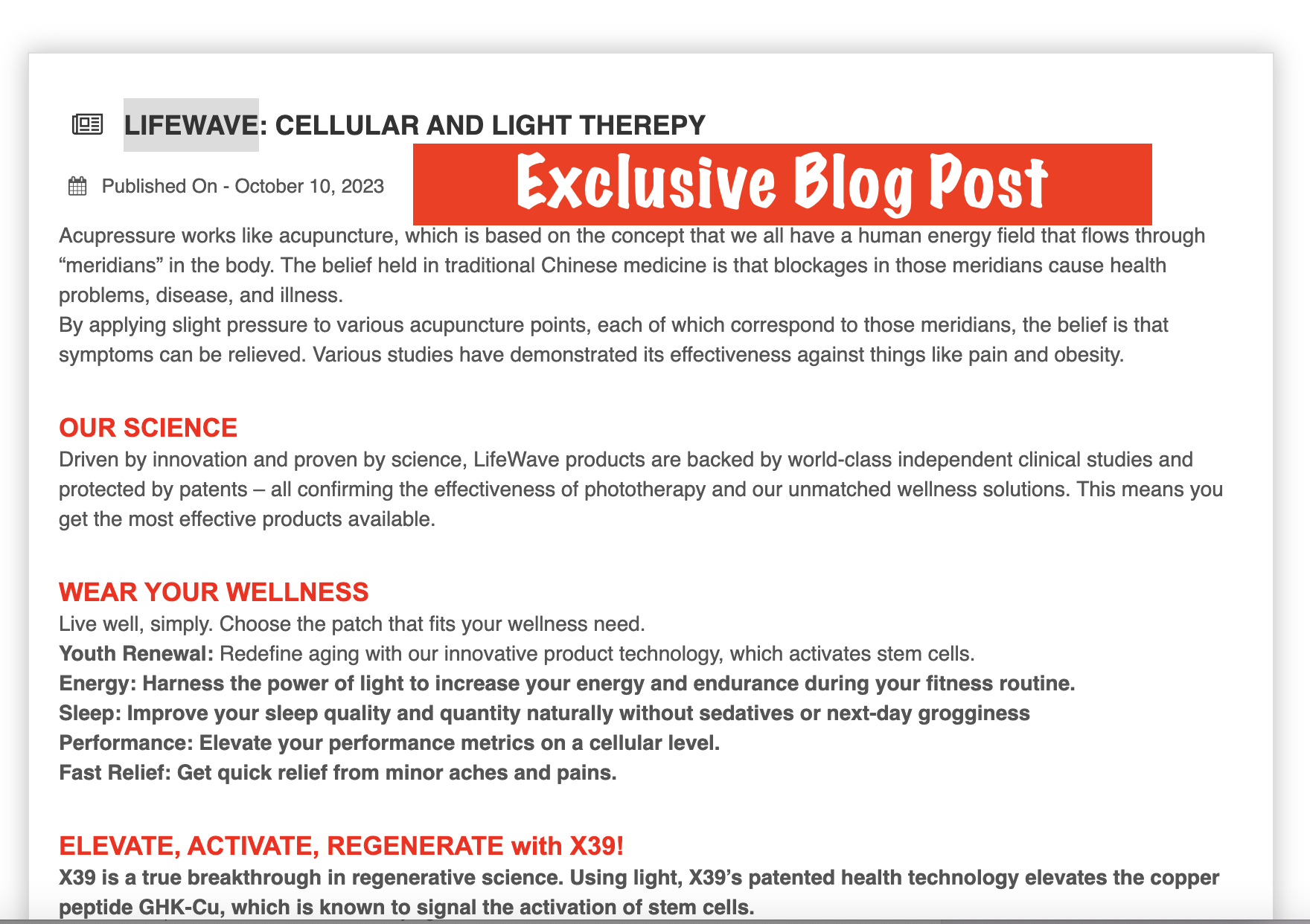 II. Leveraging Our Audience:
Our next step involved promoting the LifeWave Opportunity within our
"Top Leader Section"
on our website. This strategic placement ensured maximum organic traffic from our audience, which consisted of individuals already interested in opportunities like LifeWave. By featuring the opportunity in this highly visible section, we could effectively target potential leads who were actively seeking such opportunities.

III. Email Marketing:
One of the most critical aspects of our strategy was email marketing. We utilized a carefully curated list of
5,000 exclusive leads
who had previously shown interest in similar opportunities. These leads were segmented and targeted with a compelling email marketing campaign highlighting the LifeWave Opportunity's unique advantages. The campaign was designed to convert potential leads into signups.
Results:
The combined efforts of the three-step strategy resulted in an impressive total of 45 signups for the LifeWave Opportunity within just 30 days. This achievement underscored the success of our holistic approach to promotion.

Conclusion:
This case study highlights the effectiveness of our multi-pronged strategy in promoting the LifeWave Opportunity. The combination of a premium exclusive blog post, backlinking, leveraging our audience, and targeted email marketing yielded remarkable results. If you're seeking to promote your own LifeWave Opportunity, consider exploring our three packages, each tailored to meet your unique needs. Our track record of success and the results presented in this case study demonstrate our capability to drive signups and create opportunities for your business.




Choose Your Suitable Package to Promote Your Opportunity!
Note: Pay with Crypto for a 10% discount on all packages!