MyDailyChoice Case Study: 72 Sales in 30 Days
Achieving Remarkable Success: MyDailyChoice (MDC) Opportunity
In the dynamic world of health and wellness, MyDailyChoice (MDC) has emerged as a powerful and rewarding House of Brands. With an extensive range of top-quality products and services, MDC caters to diverse needs such as health and wellness, performance enhancement, weight management, beauty and cosmetics, travel, financial education, and more. Despite its popularity, one client faced challenges in generating sales for their MDC Opportunity. However, with our expertise, we accepted the challenge and accomplished an impressive feat of securing 72 sales within just 30 days. Our exceptional results prompted us to include MDC in our prestigious Top Company Listing, reinforcing its status as a world-class opportunity.
Generating Results: Drawing on our expertise and marketing acumen, we devised a comprehensive strategy to bolster our client's sales prospects. We recognized the immense potential of the MDC Opportunity and formulated targeted campaigns to showcase its merits effectively. Leveraging our banner ad section, we prominently featured MDC to capture the attention of our extensive audience. Additionally, we crafted engaging and aesthetically pleasing blog posts that highlighted the unique selling points of MDC, ensuring its prominence across various online platforms.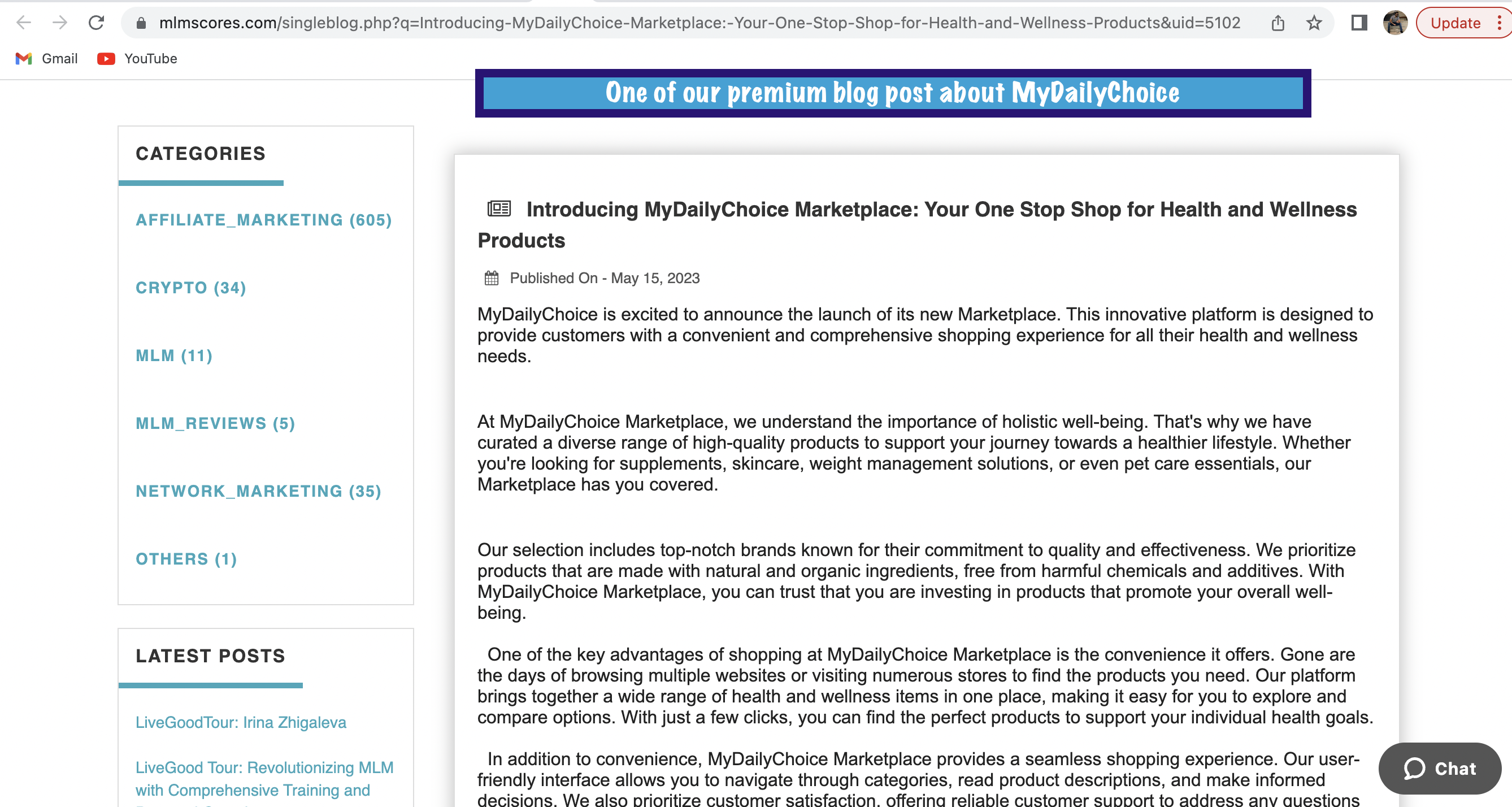 Inclusion in Top Company Listing: Recognizing the exceptional value that MDC brings to the market, we took the initiative to feature it in our esteemed Top Company Listing. This prominent placement further solidified the reputation of MDC as a premier opportunity within the industry. By associating MDC with other reputable brands and successful ventures, we instilled confidence in potential customers, bolstering their inclination to explore and engage with this exceptional opportunity.
Extraordinary Results: Within a remarkably short span of 30 days, our client experienced an astounding surge in sales, with a total of 72 successful transactions. This unprecedented achievement not only validated the potential of the MDC Opportunity but also positioned our client as a trusted partner in their future endeavors. Impressed by our expertise and commitment to their success, our client has since become a permanent member of our roster, entrusting us with the promotion of their three different opportunities.
Drive Your Business Forward: If you too aspire to accelerate your business growth and maximize your potential, we invite you to book our exclusive package designed to propel your success. Our seasoned experts will work closely with you to develop customized strategies tailored to your unique needs and goals. Alternatively, if you require guidance in selecting the most suitable package for your business, please take a moment to fill out our FREE Quote form. Our expert team will analyze your requirements meticulously and provide you with the best recommendations to optimize your results.
Conclusion: The transformative journey of our client's MDC Opportunity showcases the immense potential of strategic marketing efforts. Through our banner ad section, captivating blog posts, and inclusion in our renowned Top Company Listing, we propelled the MDC Opportunity to new heights, resulting in an impressive surge of 72 sales within just 30 days. Our commitment to excellence and unwavering dedication to our clients' success have solidified our partnership, empowering us to embark on future endeavors together. If you aspire to unlock the full potential of your business, we are here to guide you on your path to success.